Multi-Institutional Team Wins XPRIZE Open Data Challenge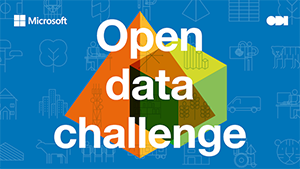 An interdisciplinary science and policy team (members listed below) organized by the Center for Science of Information at Purdue was awarded first place in the finals of a global XPRIZE Challenge coordinated by the Open Data Institute (ODI) and sponsored by Microsoft (see Microsoft's post about the team)
The primary purpose of the Open Data Challenge was to investigate the lack of access to reliable and fast internet connections for learners in the U.S. (and globally), especially in the light of ongoing COVID-19 pandemic pressures. Five remaining teams in the six-month-long competition presented on May 4th for a total prize pot of £100,000 which will be donated by the winning teams to eligible non-profit organizations working to bridge the digital gap for disadvantaged communities.
The team has been collaborating during the pandemic and represents four institutions and five disciplines primarily combining data science and economic policy to investigate the digital divide among K-12 students in the U.S.
Data science and policy research co-leads Cary K. Jim (U. North Texas) and Alison Grant (Purdue) had this to say when interviewed by the Open Data Institute, organizer of the competition: 
"We are all products of an educational system, inside and outside of the classroom, in which digital literacy was incorporated into our daily lives. Imagining a world where we did not have this experience brings home the realization that there are inequities in digital education not just across the world, but within our own backyard – the US.
We took part in this challenge because we believe digital education should be provided to everyone. We have seen that the spillover benefits that stream from a population educated in this way can and will benefit all of society in the long run. By participating in this challenge, we hope to play a part in informing the problem – the real costs that it will take to produce the above-mentioned societal benefits – so that one day, we might all be able to overcome the digital divide."
Brent Ladd, Director of Education for CSoI, and team organizer and advisor had this to say about the team, "I'm incredibly proud of the members of this team and their commitment to this global challenge. They have collaborated strategically to combine their knowledge and skills achieving new insights that are going to help further address the digital divide."
The team, known as D2IE - Addressing Digital Divide and Inclusion in Education, includes two Ph.D. students, two undergraduate students, and two staff members. The team is the most recent to emerge from the CSoI's Interdisciplinary Student Research Collaboratory, a long-running activity of the Center's overarching Information Frontiers Learning Initiative.
D2IE Team Members:
Cary K. Jim, Ph.D. Candidate in Information Science, University of North Texas (Research Co-Lead)
Alison Grant, Ph.D. Candidate in Applied Economics, Purdue University (Research Co-Lead)
Mai Anh Tran Nguyen, Undergraduate in Computer Science, Bryn Mawr College
Nathan R. Kanter, Undergraduate in Data Visualization/Web Programming & Design, Purdue University
Kena Nicol, GIS Specialist, Dallas College, Dallas, TX (Advisor on spatial data)
Brent T. Ladd, Director of Education, Center for Science of Information, Purdue University (Team Advisor/Organizer)
Source/Media Contacts:
Brent T. Ladd (Purdue), laddb@purdue.edu
Alison Grant (Purdue), grant73@purdue.edu
Cary K. Jim (North Texas), CaryJim@my.unt.edu