Boundless Analytics Tool Created at Rutgers for Data 101 Course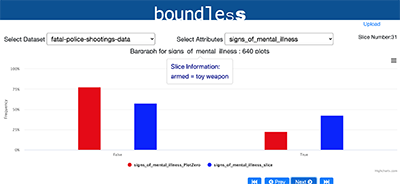 Boundless Analytics is a new pre-discovery data tool developed at Rutgers under the direction of Professor Tomasz Imielinski, with support from CSol. 
Given a data set, the Boundless Analytics engine (BA*) generates plots such as bar graphs, boxplots, histograms, heatmaps, etc over all possible data cubes meeting minimum support requirements. The tool allows rapid pre-discovery of interesting leads - relationships in data that are worth further exploration.

"We have used Boundless Analytics in 2021 class of 150 students of Data 101 (our intro class to Data Science and Data Literacy)," said Imielinski. "It helped to dramatically cut down, otherwise, tedious coding leading to the discovery of patterns in data. Students discovered and statistically verified numerous patents embedded in the massive simulated data set describing items purchased in transactions in a set of minimarket stores."
View a brief demo of the tool on YouTube, with an accompanying slide set (.ppx):
https://www.youtube.com/watch?v=1uuk-1XkBWc
For further information about the Boundless Analytics tool or Data 101 course, contact Dr. Imielinski via his faculty page.
Faculty and students can also learn about and access topic modules, seminars, interviews, and courses relevant to the emerging science of information on the Center's Courses & Modules Learning Hub portal.