Coded Bias Film Viewing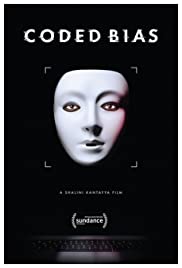 CODED BIAS explores the fallout of MIT Media Lab researcher Joy Buolamwini's discovery that facial recognition does not see dark-skinned faces accurately, and her journey to push for the first-ever legislation in the U.S. to govern against bias in the algorithms that impact us all.
Bryn Mawr College Computer Science Department, in sponsor partnership with CSoI and others (see below) is making this important documentary available for viewing now until midnight April 2. We have a limited number of passes. Contact Brent Ladd (CSoI) for access to the film.
SYNOPSIS
Modern society sits at the intersection of two crucial questions: What does it mean when artificial intelligence increasingly governs our liberties? And what are the consequences for the people AI is biased against? When MIT Media Lab researcher Joy Buolamwini discovers that many facial recognition technologies do not accurately detect darker-skinned faces or classify the faces of women, she delves into an investigation of widespread bias in algorithms. As it turns out, artificial intelligence is not neutral, and women are leading the charge to ensure our civil rights are protected. Run time: 90 mins. Released on November 2020.
When: after midnight on March 25 to midnight April 2, 2021 (available to stream on-demand)
You can watch the film at your own convenience during the dates above. To watch the film see the contact below for the registration access link. After you submit the registration, you will be shown a link and a passcode. Please copy and save both (e-mail it to yourself). The link and passcode will remain active during the dates mentioned above.
Contact Brent Ladd (CSoI) for access to the film
Watch a short trailer on YouTube: https://www.youtube.com/watch?v=jZl55PsfZJQ
More information about the film: https://www.codedbias.com/
This screening is made possible by funds from the Department of Computer Science at Bryn Mawr College (cs.brynmawr.edu), The Center for Science of Information (soihub.org), Foundations of Data Science Institute (fodsi.us), and the Alliance to Advance of Liberal Arts Colleges (www.aalac.org).