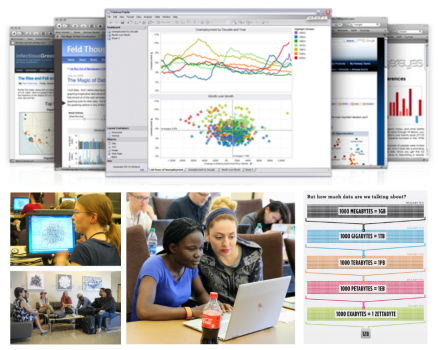 Registration is now closed​
Deadline to apply - April 12, 2019.
Workshop Overview:
Data visualization is a critical part of data science. Not all of the knowledge possible is in the data itself. We can use data visualization to unveil new and deeper perspectives assisting us in telling the full story of the data. We can also intentionally or unintentionally obscure, distort and misrepresent with visualization.
This workshop enables students from all backgrounds, domains, and academic majors access to learn the process of visualizing data in a scientific and ethically sound manner – becoming "Agents of Insight" in the world of data science.

Students will learn through hands-on exercises individually, as well as in interdisciplinary teams. Participants will gain hands-on experience by working through the key stages of scientifically visualizing data using Tableau and Excel software tools. Students will examine case studies from Critical Data Studies, critical geography and data journalism in order to develop frameworks for ethical and just data visualization practices that can be applied to their work.
Participants Will Learn:
The process for visualizing data that include acquiring the data, processing and creating visualizations
Visualization principles that include: identifying appropriate data sources, color and perception, choosing the right chart type
A variety of visualization techniques
Theoretical and methodological tools for ethical and just data visualization
How to access, transform and manage data for visualization / knowledge creation
​Hands-on experience of working in an interdisciplinary team environment and co-presenting results

Dr. Vetria Byrd, Assistant Professor, Byrd Visualization Lab, Polytechnic Institute, Purdue University will lead participants through a novel seven-stage process of visualizing data. Students will be co-participants in this process of becoming "Agents of Insight".
Dr. Kendall Roark, Assistant Professor of Libraries and School of Information Studies will guide participants in the development of best practices informed by Critical Data Studies, data and visualization ethics.

Registration/Application Details:
Registration is now closed​
Deadline to apply is April 12, 2019.
We have limited seats for this workshop, please apply early. U.S. citizens, women, minority, veteran, disabled, and first-generation students are highly encouraged to apply (please note that undergraduate students must be U.S. citizens).
Applicants will be notified no later than April 19 of a seat in the workshop so that they can arrange their travel plans. Please answer all registration questions for full consideration. All lodging and meals are provided for participants. Participant's roundtrip travel expenses will be reimbursed following completion of the workshop.
Audience:
We seek participation from undergraduate and graduate students, and postdocs of all backgrounds, majors, and academic domains. No pre-requisites are necessary to participate and thrive in this workshop. We ask that you complete all registration/application questions.
Workshop Instructors
Data Visualization: Dr. Vetria Byrd, Assistant Professor, Purdue University
Critical Data Studies, Data & Visualization Ethics: Dr. Kendall Roark, Assistant Professor, Purdue University
TA: Edith Mauro, Purdue University
Workshop Chair: Brent T. Ladd, Director of Education, Center for Science of Information, Computer Science, Purdue University
Agenda
DRAFT AGENDA
Workshop participants will arrive at Purdue University Sunday afternoon/evening of May 19. The workshop will conclude at Noon, Friday May 24.
Pre-Workshop Tutorials & Materials:
Prior to the workshop, participants will complete several online tutorials, readings, and installation of software(see below). These activities will prepare participants for the full week of hands-on data visualization activities.
Participants should view the 1. Data Viz Intro Video (accompanying slides are available in link #2), and 3. Data Viz and Misrepresentation Video. Participants will receive an educational license for Tableau to install prior to the workshop by email from Tableau. The Critical Data Viz reading list (5. below) includes the suggested readings for the ethics and societal topics we will cover in the workshop.

The Data Visualization Reading List (6. below) - please read both of the '7 things you should know' Part I and II prior to the workshop. The remaining readings are suggested and will be helpful to orient you to the science of data visualization.
Read the one-page 4. Best Practices for Successful Formation of Interdisciplinary Science Teams. Participants will be working in teams of 3-5 students during the week representing a broad range of disciplines
Tableau license will be emailed to you on May 13, 2019
Dataset download (Forthcoming)
Interdisciplinary Research Teams:
Each participant will be a member of an interdisciplinary team. We do our best to form teams with balance among postdoc, graduate students, and undergraduate students and their backgrounds and domain areas. Teams will have the opportunity post-workshop to apply to the Information Frontiers education program at the Center for Science of Information for funding to continue working together on a data issue of interest. To best prepare for interdisciplinary team experience, read the one-page overview Best Practices for Successful Formation of Interdisciplinary Science Teams.
TEAM ROSTER 2019
Map of Universities Represented 2019​
Lodging
Lodging will be provided and paid for by the Center for all non-Purdue students. Students from outside Purdue requiring lodging will be staying at First Street Towers. The First Street Towers dorm will provide sheets and a top blanket and pillow.
Off-campus students should plan to arrive at Purdue by Sunday evening, May 19th. The workshop will conclude Noon on Friday, May 24th. Check out time from First Street Towers is 5pm for those leaving Friday, May 24th, and also for those leaving on Saturday, May 25th.
Meals
Lunch will be catered onsite Monday through Thursday. Additionally, all attendees will be issued a dining card for use in the Wiley dining hall for breakfast and dinner Monday, May 20th - Thursday, May 23th, and all meals will be at the Wiley dining hall for Friday, May 24th. Note, for Sunday arrivals and Saturday departures we do not provide any meals and dining halls are closed, however, there are several options available by walking two blocks west of First Street Towers in the Purdue West shopping plaza, or walking about 1 mile east along State Street to the Chauncey Hill Mall area.
Map
Travel to/from Purdue
Note that you will want the Wiley Dining drop off/pick up if using Reindeer Shuttle (both Indy and Chicago) to and from the airport (about 2 ½ blocks north of First Street Towers dorms) OR the Purdue West/Follett's location for shuttle drop-off/pick-up if using Lafayette Limo from Indy, or Express Air Coach from Chicago (directly two blocks west from the First Street Towers dorm).
Wireless Network and Server Accounts
Monday morning when you arrive at Lawson 3102 for the workshop, you will have with your name a login for the Purdue wireless network (PAL 3.0) and instructions for connecting.
Travel Reimbursement
Students and Postdocs from outside Purdue are eligible to apply for reimbursement of airfare and shuttle expenses to attend the full week workshop. Use the link above, and follow the instructions and forms provided. If there are any questions regarding travel reimbursement contact Robynne McCormick rlmccorm@purdue.edu.
Evenings
This time in May is the quietest on the Purdue campus. Not a lot is happening this week - other than our workshop! Most evenings your team is encouraged to spend time together. In addition to eating dinner and meeting as a team during evenings, you might be interested in checking out the Purdue CoRec - one of the nicest facilities of its kind in the country. Check the summer hours before heading there. It is a short walk from your dormitory. For non - Purdue students, your Dining Card will give you access to the Co-Rec.
There are a number of unique shops and dining at the east end of campus, about a 15-minute walk directly east from First Street Towers. You can also find out what else is happening in the area during the evenings at HomeofPurdue.com. Although Purdue is a very safe campus, we strongly recommend walking at night as a group, and never alone, especially in areas off of campus