From sharing Faculty, Postdoc and Student presentations to producing promotional educational posters and brochures, CSoI is dedicated to furthering awareness and interest in Science of Information.
---
Center Brochure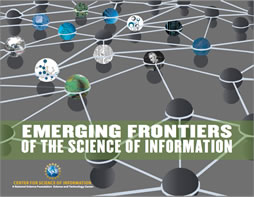 Our brochure highlights major areas of the Center.
---
Info Bits Poster Series
Mathematical Theory of Communication
A Science of Information for Biology
---
Newsletter: The CSoI Channel
See how to subscribe to the newsletter by joining our friends listserv (below) or you can read it online.
---
Listserv Subscribe!
Like
Follow
Share
---
Blog
---
Related Files
infobits-soi-biology.pdf
infobits-mtc_poster.pdf
infobits-what-is-information.pdf