Education and Research Workshops
Teaching a Science of Information Course Faculty Workshop June 5-6, 2013
Purdue University, West Lafayette, IN, USA
Team building for collaborative Science of Information courses:
Discuss ideas, approaches, and share course content
Discover funding opportunities for teaching a SoI course
Early Registration: April 1, 2013
http://www.soihub.org/course-workshop
Funds are available for travel and lodging. Contact Dr. Mark D. Ward, Purdue University,
mdw@purdue.edu
Student/Postdoc Research Meeting
Dec. 3-4, 2012 Purdue University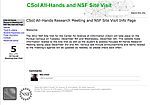 For the latest info on this event check out the
Meeting Site
Summer Research Workshop
July 24-25, 2012 Purdue University
The Center is pleased to announce a summer student research workshop taking place at Purdue University. The purposes of the workshop include:
Interaction between students and faculty/postdoc research leaders to learn about and discuss Center grand challenges as put forth by the faculty

Receive input from students on potential collaboration efforts related to the grand challenge areas

Foster and support team science

Discuss student-based seed grants that will further collaboration among students
Shortly following the workshop, the Center will provide funding for a select number of student driven collaborative groups. This workshop will serve as catalyst in formulating those groups/projects. Questions on the nature of the workshop, please contact Managing Director, Bob Brown (bobbrown@purdue.edu).
Travel & Lodging:
Students attending will have their airfare and shuttle expenses reimbursed by the Center (retain all receipts). Questions about reimbursements contact Kiya Smith (
kiya@purdue.edu
). While onsite during the workshop at Purdue, lodging and meals will be provided.
Lodging will be at First Street Towers located on the Purdue Campus at 1250 First Street, West Lafayette, IN 47906. Please use the First Street entrance. Rooms will be reserved for you based off of the online workshop registration.
For travel information from Indianapolis International Airport and Chicago O'Hare airport, please visit the following link:
http://www.purdue.edu/vic/navigating/getting_here.php
Both airports offer Shuttle services to campus. This information and schedules can be found at the above link.
Alternatively, a car can be rented from either airport.
Schedule:
Tuesday, July 24th - Lawson Computer Science Building - Room 3102 A and B

9:00 - 10:00 a.m.
Light Breakfast and Gathering
10:00 a.m.
Welcome - Why are we here? What do we want to accomplish?

Wojtek Szpankowski, CSoI Director
Bob Brown, CSoI Managing Director

Introductions

All participants spend three minutes telling us about yourself, your research and what you hope to gain from this workshop.

Communications Grand Challenges

Thomas Courtade, Center Post-doc
Pulkit Grover, Post-doc, Stanford

Noon
Lunch - Further Discussion of Communications Grand Challenges
2:00 p.m.
Knowledge Extraction Grand Challenges

Jennifer Neville - Purdue University

4:30 p.m.
Life Science Grand Challenges

Todd Coleman - UC San Diego
Rui Ma, Center Post-doc

Break
6:00 p.m.
Dinner - Purdue Memorial Union

Wednesday July 25th - Lawson Computer Science Building - Room 3102 A and B

9:00 - 10:00 a.m.
Light Breakfast and Gathering
10:00 a.m.
Seed Grants for Student Teams Discussion Team Science Best Practices
Noon
Lunch
1:30 p.m.
SOI Hub - Using Built-in Project Collaboration Tools through soihub.org
2:00 p.m.
Grand Challenges Discussion - Going Forward, outlining collaborative projects, action items, etc.

Workshop Summary/Closing Remarks